The Met Office are predicting a hot week to come with temperatures reaching 30 Celsius or more in places.
Calne is currently forecast to reach enjoy a hot week with temperatures rising from 21C on Monday to 29C on Thursday, returning to the low 20's by the weekend.
The Met Office say: 'Tuesday will be dry with plenty of sunshine and light winds throughout. Feeling very warm in the sun, but fresher around coasts. Maximum temperature 26 °C.
Wednesday and Thursday will be dry and sunny whilst Friday will potentially see scattered thundery showers. Feeling very warm and locally hot.'
Office Chief Meteorologist, Dan Suri said: "Northern Ireland and Scotland will be under a band of cloud and rain on Monday and Tuesday, however it'll be dry elsewhere with plenty of warm sunshine and temperatures reaching 28 or 29 Celsius in a few spots on Tuesday.
"Temperatures will continue to climb through the week with a hot spell developing across much of England and Wales. From Wednesday temperatures will widely reach into the high twenties Celsius and it'll be hot across much of the UK, especially central and southern England where we could see highs of 30 to 34 Celsius. This hot weather is expected to last until at least Friday and so heatwave conditions are likely to develop for some areas this week."
"In addition to the warm days we are going to see some warm nights this week as temperatures overnight remain in the mid-high teens across England and Wales."
The highest UK maximum temperature recorded in June is currently 35.6 Celsius, set at Mayflower Park, Southampton on 28th June 1976. The highest UK minimum temperature recorded in June is currently 22.7 Celsius, recorded in Ventnor Park on the Isle of Wight Swansea on 28th June 1976.
With plenty of strong summer sunshine in the forecast, UV levels will be high or very high - you can check the Met Office UV forecast here and tips on keeping cool in hot weather here.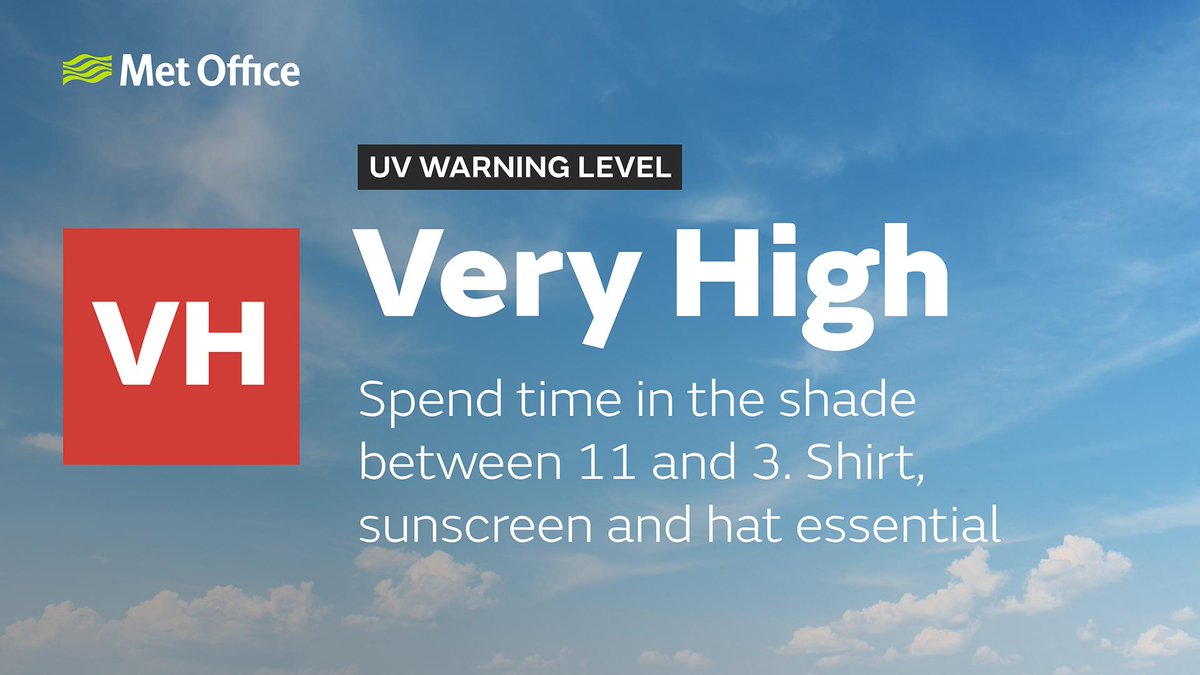 Commenting on the reasons behind the hot spell, Dan said: "We quite often see warm, southerly air from the continent bringing these high temperatures to the UK in summer, however this week, the air across the UK has arrived from the Atlantic. This Atlantic air will descend and warm up as it moves across the UK and this in combination with clear skies and strong late-June sunshine, we're seeing temperatures rise."
Deputy Chief Meteorologist, Matthew Lehnert, said: "By Thursday, Northern Ireland and Scotland will join the rest of the country in seeing a shorter lived spell of warm and sunny weather, but we're also seeing an increased risk of thunderstorms towards the end of the week which is expected to bring an end to the very warm and sunny weather."
You can check the latest weather warnings on our severe weather warnings pages and you can get the most accurate and up to date forecast for your area using our forecast pages and by following us on Twitter and Facebook, as well as using our mobile app which is available for iPhone from the App store and for Android from the Google Play store.
Whatever the weather we are all being urged to remember the Government Coronavirus guidelines