CALNE Town Councillor, Jon Fisher has recently been raising questions over the fuel prices in Calne as he calls on the town's biggest supermarket, Tesco to bring petrol prices in line with neighbouring towns.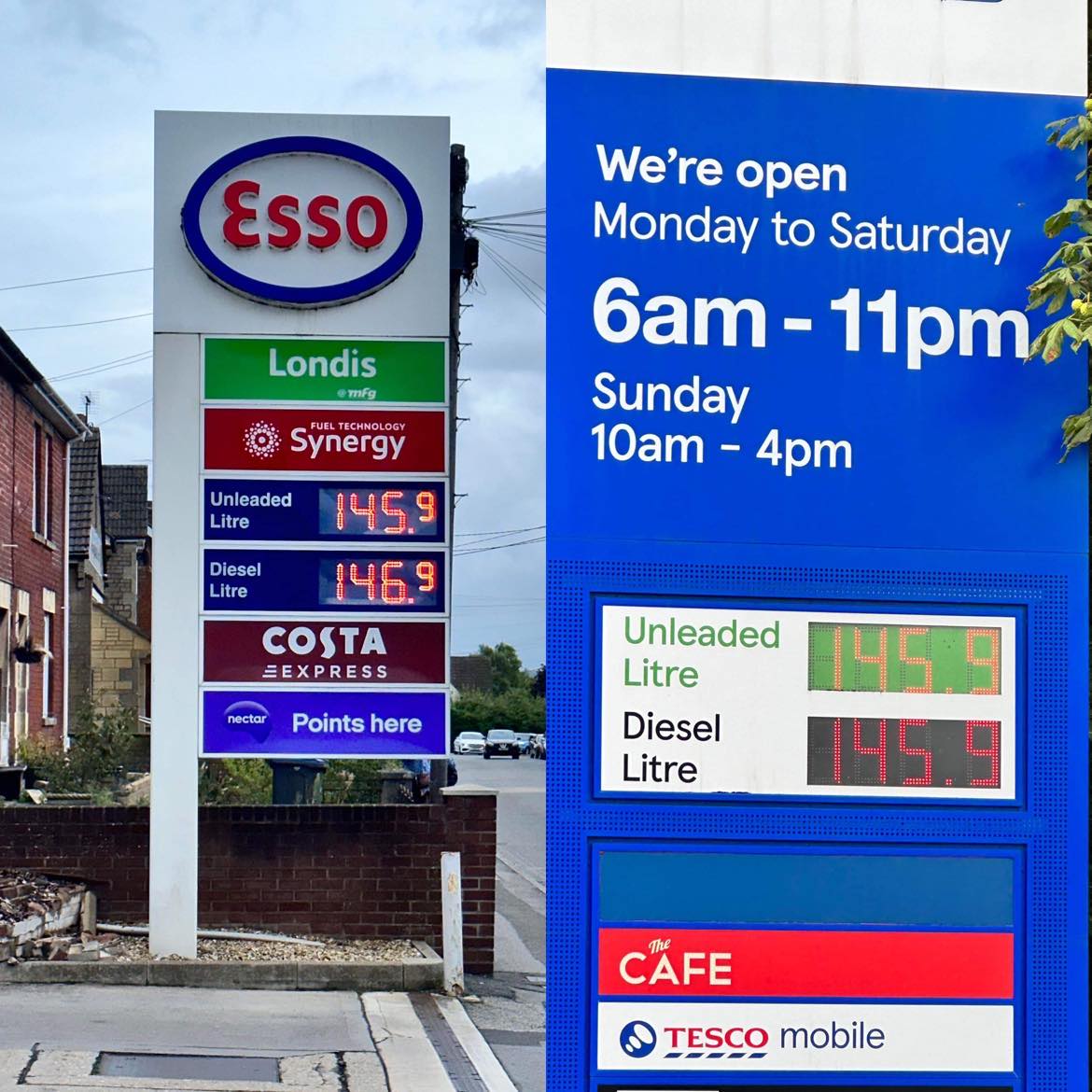 Jon Fisher tweeted Tesco after discovering that unleaded petrol is up to 10p a litre cheaper at fuel stations in our neighbouring towns, saying: "Filled up at Tesco, Calne Wiltshire last night. £145.9. Why Tesco? This is significantly than the towns around us. Is it profiteering or does it genuinely cost an extra 10p a litre to haul petrol to this town?"
Tesco are yet to respond to Mr Fisher, so Calne News decided to take a closer look at Calne fuel prices and those surrounding us.
All Calne garages are fairly equal with Esso currently at £145.9 Unleaded and £146.9 Diesel, BP - £144.9 Unleaded £145.9 Diesel and of course Tesco Calne at £145.9 for both.
Whereas, Tesco Chippenham (Hungerdown Lane) £141.9 Unleaded £144.9 Diesel, Esso Bath Road, Chippenham £141.9 Unleaded £144.9 Diesel and Sainsbury's Chippenham £138.9 Unleaded £139.9 Diesel.
In Melksham BP £143.9 Unleaded £146.9, Texaco £142.9 Unleaded and £145.9 Diesel and Sainsbury's Melksham £138.9 Unleaded and £141.9 Diesel.
As a motorist, it can be hugely frustrating to find different per litre prices within the same town - let alone county - without any apparently justifiable reason.
It is ultimately the responsibility of individual retailers to set petrol prices, taking a host of different factors into account.
Local variations in the price of road fuel - including pricing disparities between urban and rural areas, like ours - may reflect the fact that these sites supply lower fuel volumes and higher transportation costs, whilst not being able to benefit from economies of scale. Generally, fuel is cheaper in bigger towns and cities that have plenty of competition and supermarket filling stations, while it is more expensive on motorways and in remote areas and those with little competition such as Calne.
A Tesco spokesperson told us: "We regularly monitor fuel prices throughout a local area to ensure we're providing competitive prices for our customers and our fuel prices in Calne are very competitive with other petrol stations nearby."
So it would seem that in order to get the best fuel prices possible, Calne motorists need to fill up in our neighbouring towns whenever possible - a frustrating fact, bearing in mind our proximity to these towns.You can keep up to date with fuel prices here https://www.rac.co.uk/drive/advice/fuel-watch/
*all prices correct as of 31st July 2023.
Want to know what's on in Calne? Visit our local events page for listings and to find out how to add your own events for free.
Follow us on Facebook, Twitter and Instagram to keep up with all the latest news.
Have you got a story for us? Email editor​@​calnenews.com or contact us here.